TURN YOUR BATHROOM INTO A SPA
10 October 2016
We all dream of having a spa in our home. As the bathroom is a place of wellbeing and relaxation, with some accessories, and new technology, there's no need to leave your home for the ultimate relaxation!
The decoration
To relax in a spa-like environment, go for clean lines and natural materials such as stone, wood, wicker baskets and cotton linens. Slate also gives a more contemporary effect.

Bathroom cabinet NIVA from Miliboo
Don't keep your accessories and bath products under the sink! Instead, put them on display. A nice way of doing this, for example, is placing your unopened soaps in a glass jar.
For your towels, instead of folding them, roll them and place them into a large basket.
To create a subdued atmosphere when you lie in your bathtub or take a refreshing shower, replace your main lights with candles positioned all around the room.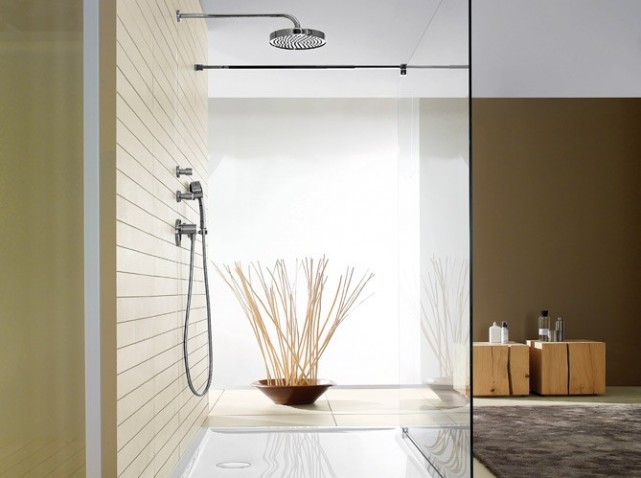 Finally, adding a chair, bench or stool will make it much more comfortable when giving yourself spa treatments. Are you starting to imagine your perfect spa?
The multiple-jet bath or shower
The new generation of baths and showers are the perfect addition to transform your bathroom into a paradise.
Newly available fittings, that turn your everyday bath or shower into a jacuzzi or a multi-jet shower, are becoming increasingly popular and accessible to all and they only require minor adjustments.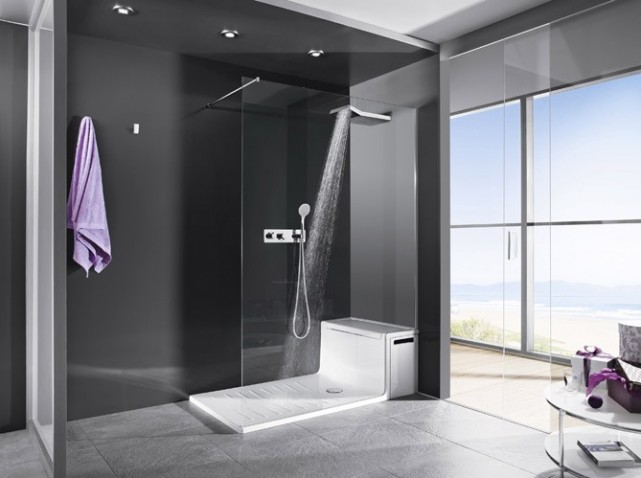 If you have a shower, all there is left to do is to add jets to create a hydro massage effect. For bathtubs, the whirlpool option is the perfect way to isolate yourself from the stress of everyday life.
Whirlpool tubs or jacuzzis offer maximum comfort and total relaxation at home. They can come with hydro massage, chromotherapy and waterfall taps to awaken your senses and give you the sensation of luxury.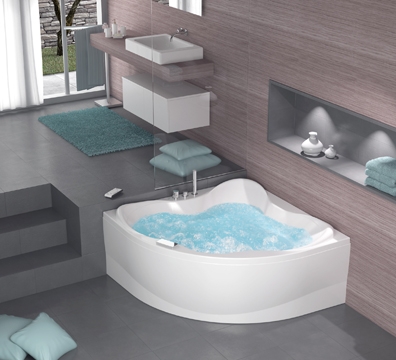 The benefits of chromotherapy: colours at your service
Chromotherapy is created by light waves that transmit therapeutic benefits. You can find more and more chromotherapeutic lamps and appliances in today's market.
Showers with a chromotherapy function are perfect for creating a soothing, relaxing atmosphere. You can also install lights into the shower tray or floor.
To enhance this effect, you can also choose the color of your walls and/or your floors according to your desired effect.
Some examples:
– Pink is a true antidepressant, it helps combat stress.
– Blue evokes peace and quiet, so it creates a more relaxing atmosphere.
– Green has soothing qualities, it provides a real serenity in the room.
Light therapy: remedy to the blues
The winter is often related to being down and blue, light therapy helps you find the light!
Our body reacts to light; it plays with our morale. It is therefore useful to have a light therapy lamp in your bathroom to take care of your wellbeing and inner peace.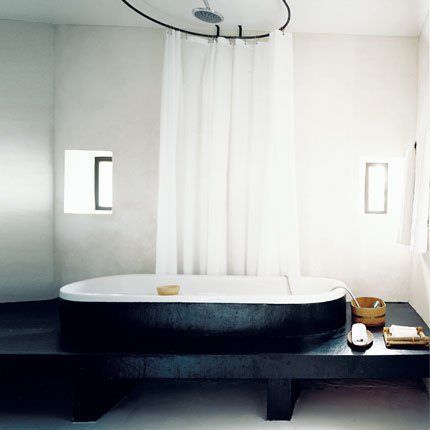 With your existing lighting you can create a calming and de-stressing atmosphere by replacing your light switches with dimmers. Now you can control the light to create your perfect mood which will improve your morale!
Extras
To complete your spa atmosphere, add a fragrance diffuser for the ultimate relaxation. Also, if you want to be truly carried away from the stresses and strains of life, there's nothing like soft music.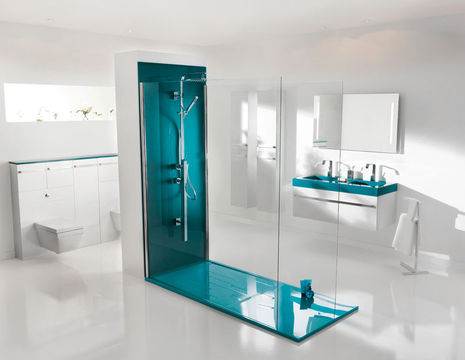 Make sure to leave at least 60cm or 70cm in front of the bathtub and sinks, for space to move around. Think carefully about the layout of your bathroom, considering the size of your shower cubicle and the shape of your bathtub to optimise the available space. If you have a small bathroom, you can also consider making niches in the walls to use as shelves for storage.
You are now ready for a spa day at home.